Soft-logic specialists inform about the launch of a mobile Android monitoring application for terminals based on Pay-Point cloud processing. The application allows to obtain data on the status of devices and internal components, the amount of cash in the terminal, view the reporting and to monitor defective terminals.

In addition, the application allows to view the information on the terminal's collection over the last period, in some implementations it is possible to generate reports on transactions and rewards. The command sending functionality allows remote management of the terminal network and in a timely manner troubleshooting of device components and failure reasons.

The application menu includes the following sections:

— Terminal status and sending remote commands

The section displays information about the selected terminals and their states – functionality of the bill acceptor, printer and the communication status. The command sending functionality allows to send commands to a specific terminal, to select a command and the time it needs to be executed, includes more than 20 different options – reloading, sending log files, Java memory dump, screenshots, updating bill validators, network statistics, and others.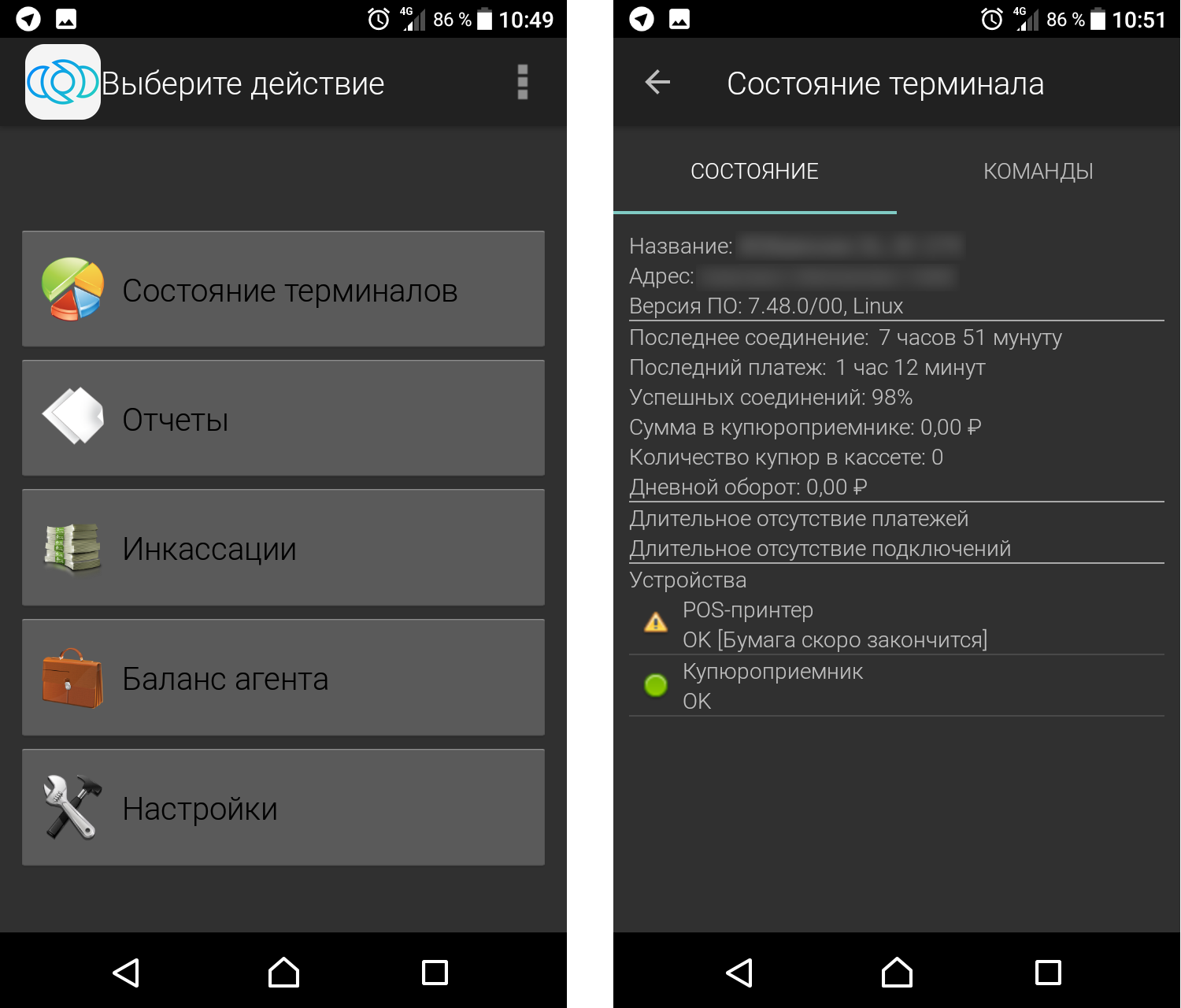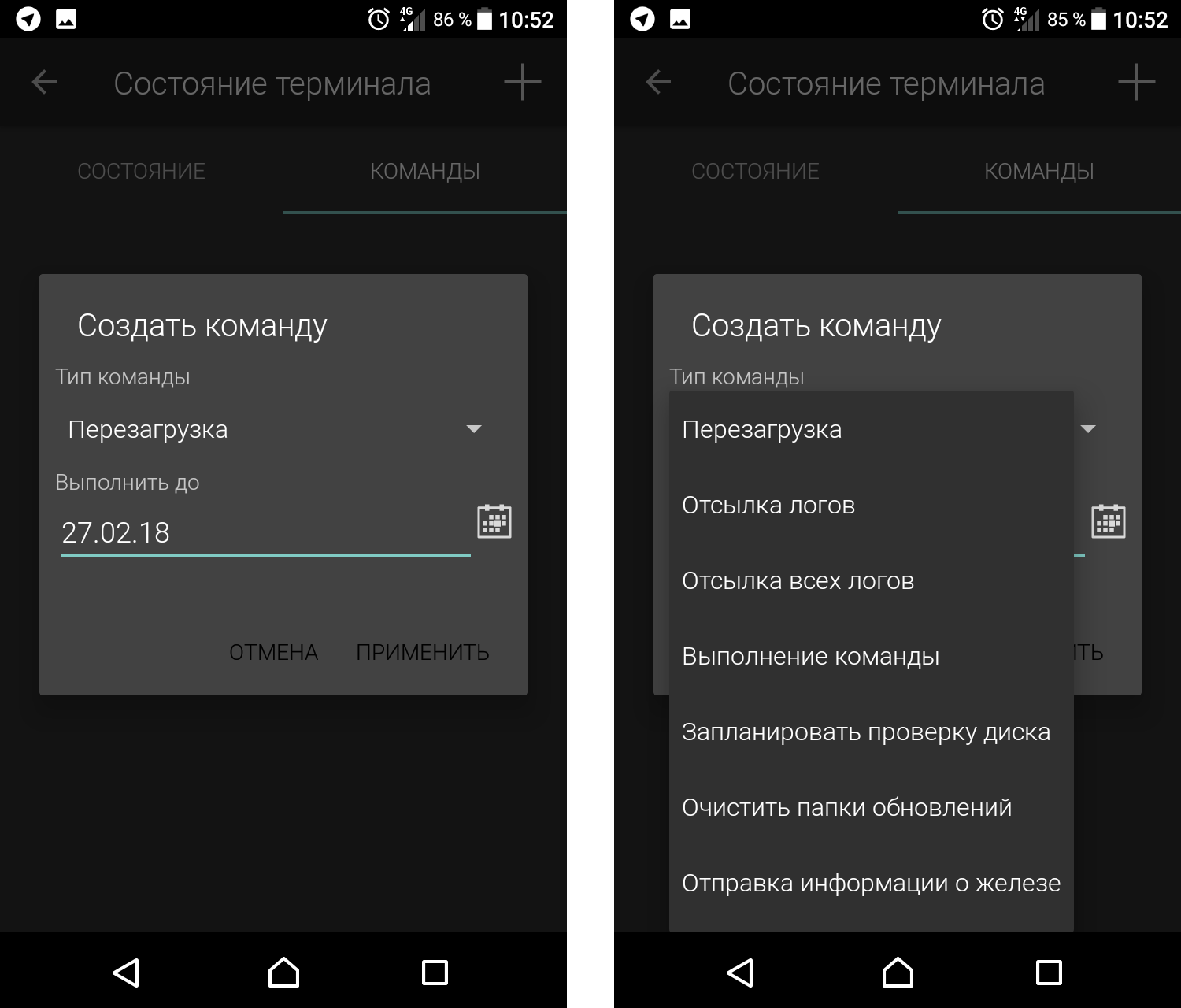 — Various reports

The section allows to search for operations on various conditions, view detailed information on them, unlock/block operations. It is possible to view information on cash flows on the agent's account, as well as on agent's received and paid reward.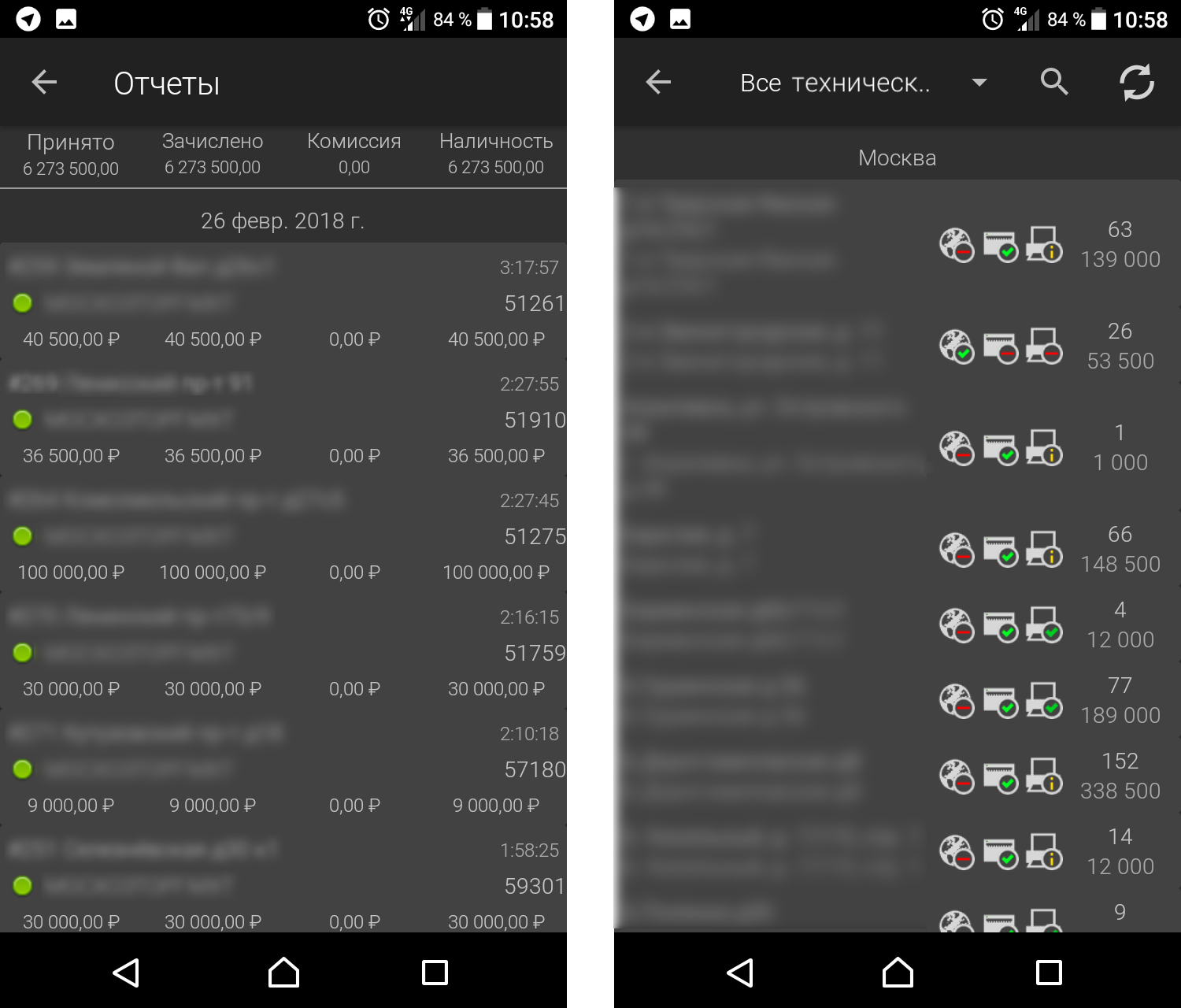 — Collection of terminals cash

The section shows information about the collection for the current and previous day. On separate tabs of the page for viewing cash collection, collection of coins and bill acceptors is displayed.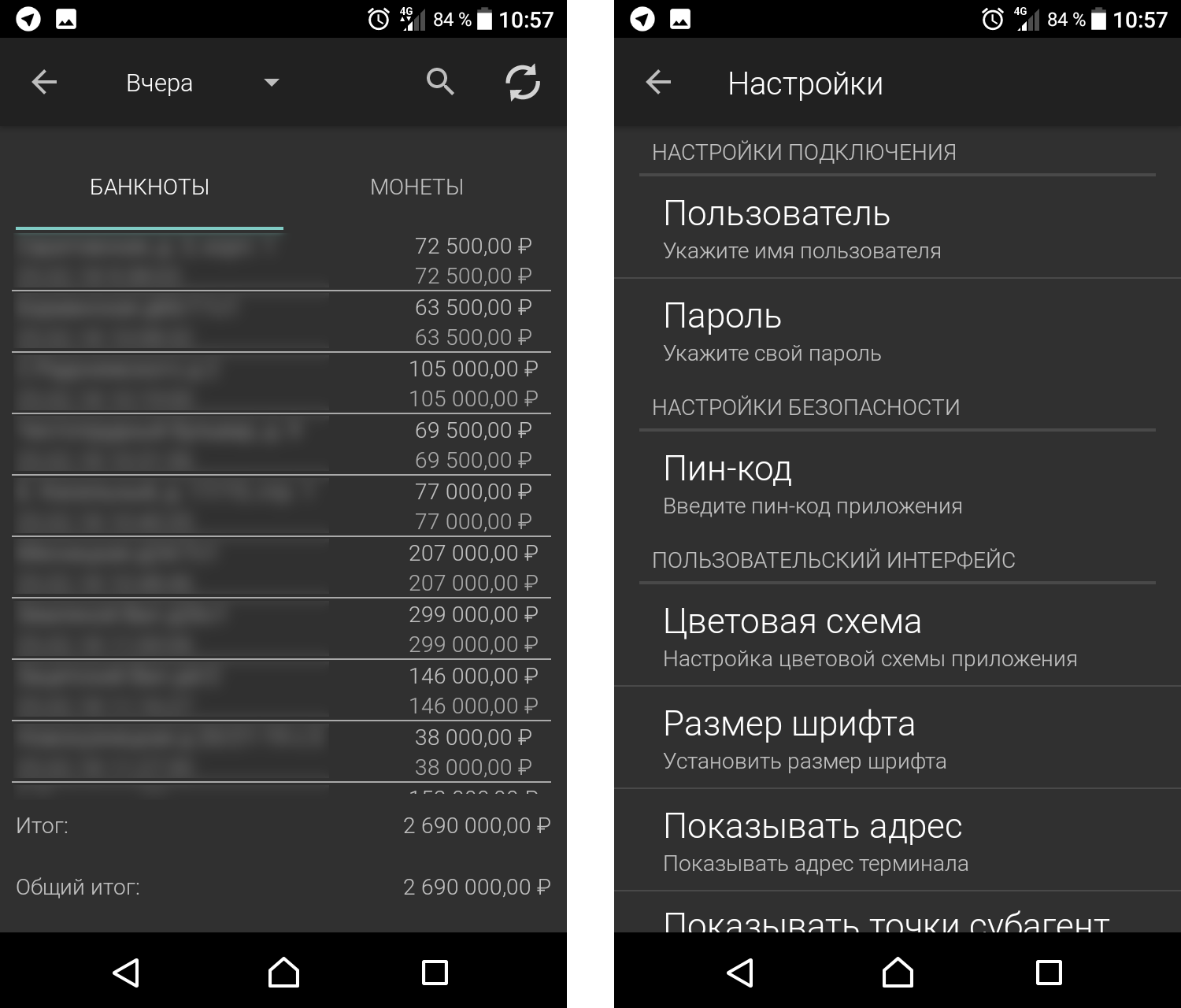 — General information about the agent and his balance

The section displays the current balance on the account, the amount of the overdraft and the amount of funds that can be spent (determined taking into account the overdraft).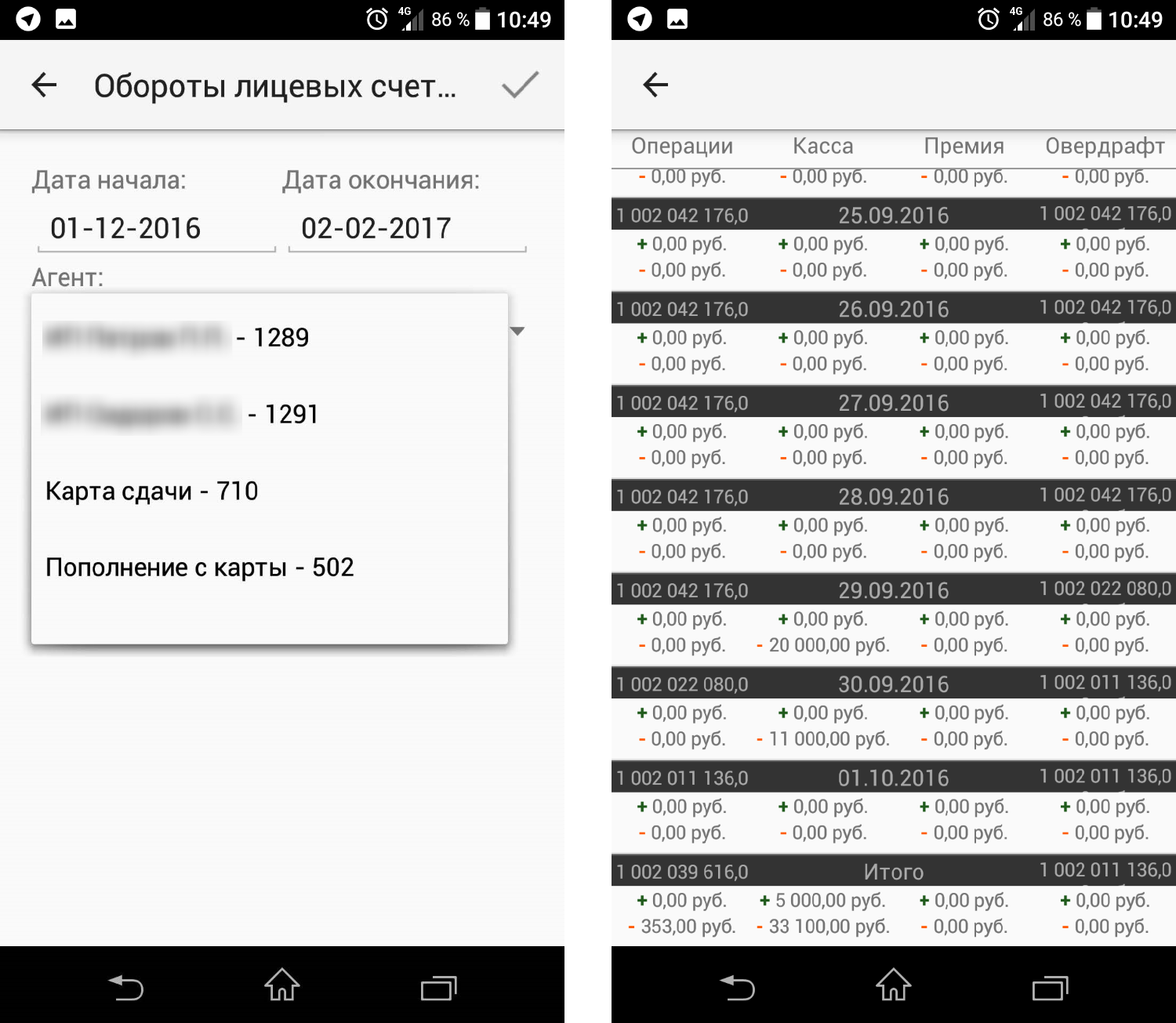 The settings menu allows to change the user, check for updates and diagnose the device, set the PIN code for authorization, configure the interface elements and font.

The mobile monitoring application can be installed on Android 4.0.0 and higher.

To get started with the application, need:

1. Create a point and user (users) in processing
2. Install the application on the device
3. Obtain authorization data from the administrator
4. Configure the connection settings on the device (if necessary)
5. Log in using the authorization data

After creating a point with the type «Mobile point», connect it with the user – in the «Payment Point» parameter, specify the created point in the user properties. One point can be specified for several users. In mobile applications, users can use roles such as «Cashier», «Cash collector», «Dealer», «Network administrator».

After the preparatory steps on the processing server, you can proceed to install the application on the device. The application is available on the Google Play Store through a link.